Applied Theatre in Paediatrics
Children, Stories and Synergies of Emotions
ROUTLEDGE Australia, TAYLOR & FRANCIS (2023)
Hb: 978-0-367-48325-8
Pb: 978-0-367-48326-5
eBook: 978-1-003-03934-1
This book explores applied theatre practice for children in environments of illness and cure and how it can powerfully normalise children's hospitalisation experience. It is an essential tool for making meaning of children's illnesses, putting them into a fictional context, and developing better control of their clinical experiences. It can be central to raising the standards of care and quality of life during illness. Taken from the author's research and participatory bedside theatre practice in hospitals before, during and after the COVID-19 pandemic, this book demonstrates new learning about aesthetics, ethics, emotions, stories, puppetry, digital arts and research methodologies about children's health and wellbeing.
It provides a selection of ten unique stories told by children inspired by applied theatre practice in paediatrics, cardiac, oncology, neurosurgery, burns units and complex and intensive care wards. Stories aid in understanding the language of children's pain for a better assessment and management of pain by healthcare professionals through the arts. It analyses synergistic theatre performance in "stitched lands" between challenging realities and safe fictionalities. This book enables artists to develop new ways of thinking and contributes to further improvements in the provision of education and reflective learning in the field. It also addresses the emotional labour of the artist in healthcare and makes recommendations for balanced training to prevent emotional exhaustion.
Designed for artists, healthcare professionals, therapists, play specialists and teachers who work with children in healthcare, this text aims to help many people find creative ways of making a positive difference in sick children's lives. It is a book for those who love and care for children.
Book Launch 19th JANUARY 2023 hosted by CREATE University of Sydney, Australia Webinar link: https://events.humanitix.com/webinar-30-or-persephone-sextou-children-stories-and-synergies-of-emotions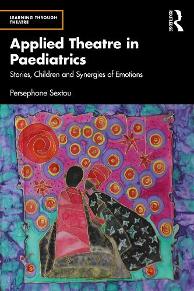 Theatre for children in hospital (TCH) is the first book devoted to theatre practice for children in clinical settings as a means for positive change through compassion, a growing field in healthcare practice. TCH is a potentially important strategy for normalising the experience of spending time in hospital for treatment, preparing children for painful procedures, pre- or post-operative and enhancing emotional and social wellbeing while in hospital.
This book breaks new ground in literature and provides a basis for understanding TCH's critical theoretical and practical features through evidence-based practice. Focusing on a 4-year research study conducted with children in UK hospitals and drawing on experience from leading theatrical interventions in hospitals in Europe, the text is divided into (10) distinctive features that characterise this approach. Theatre for children in hospital provides a concise summary for professionals and trainees in theatre, applied theatre and healthcare, primarily actors, facilitators and community artists, and secondarily play specialists, nurses, teachers in educational centres in hospitals, and therapists who work with children in clinical environments.
The book has an easy-to-read and uses format. It reveals the importance of accepting theatre as a way of adding a playful dimension to sick children's lives with sensitivity, respect, love, empathy and compassion. It offers explicit instructions for making and evaluating imaginative theatre projects for children in hospitals that will appeal to experienced practitioners and newcomers interested in using theatre to entertain, relax, and help children and their families maintain their optimism about life in hospitals during recovery. Readers will identify with many aspects of the theatrical experience as artists or parents/guardians of children and perhaps learn something about themselves too.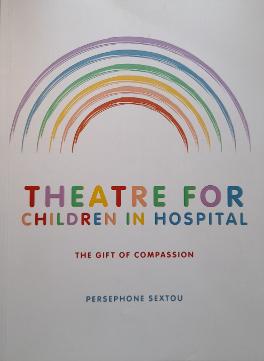 The author builds on her first monograph 'Dramatization' to present a collection of theatrical project plans for children and young people across the areas of the Greek National Curriculum for primary and secondary education, including multiculturalism, museum education, health & Well-being, environmental education, language and literature. Through drama and performance, she addresses social topics of high interest amongst teachers, educators and theatre facilitators in schools such as human rights, aesthetics, health awareness and the understanding of history, antiquity and art. The book is written in Greek.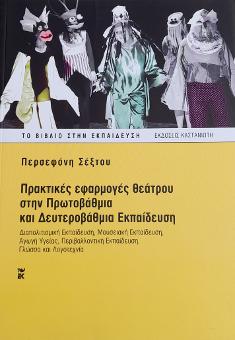 Readers are introduced to a new relationship between school, theatre and community through the implementation of the Hellenic model of Theatre-in-Education (TiE) projects as a learning medium about the arts and citizenship. This book draws on evidence-based recommendations for the demand for the TiE in the Greek educational system and the embryonic beginnings of participatory theatre practice in schools based on my PhD thesis (University of London 2004). It proposes the introduction of TiE programmes in schools to fit the needs of the Greek education and community. The boo is written in Greek.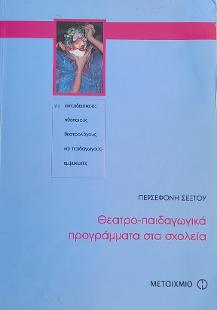 This is a practical book offering detailed guidance and ideas for the presentation of literature to children by using drama in the classroom for the preparation of school performance. It covers areas such as casting, theatrical sets, costumes and masks, props, lighting and sound, music, improvisation and devising for theatre. The author presents her a collection of 10 original Drama in Education applications, including project planning and implementation methods for theatre facilitators and teachers. She outlines the stages of preparation, facilitation and evaluation and offers detailed guidance and inspiration for the use of theatre in the classroom based on learning theories and the use of creativity in education. The book is written in Greek.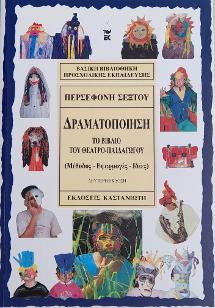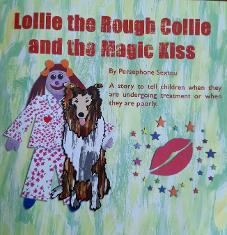 © Copyright Persephone Sextou